If the weather down here on Earth cooperates tomorrow, the SpaceX Crew Dragon Endeavor spacecraft will undock from the International Space Station (ISS) and take its fiery plunge through our atmosphere to splash down in the Atlantic Ocean on Sunday afternoon.
SpaceX has been sending cargo to and from the ISS since 2012, with over 20 missions successfully completed. However, SpaceX Crew Dragon made history on May 30th of this year when it became the first commercial spacecraft to carry humans to the ISS. During NASA astronauts Bob Behnken and Doug Hurley's two month stay aboard the ISS, they performed numerous scientific experiments, not the least of which was the successful completion of the first test flight, SpaceX Demo-2, for NASA's Commercial Crew Program (CCP). Through the CCP initiative, NASA appointed Boeing and SpaceX to develop spacecraft capable of transporting astronauts to and from the Space Station. SpaceX won this particular space race, developing Crew Dragon in six years.
Successfully launching Crew Dragon into space and docking with the Space Station was just the first phase of the Demo-2 test flight; undocking from the ISS and returning the crew safely back to Earth is the next critical phase of this test mission. But all is expected to go well; Crew Dragon is a new breed of smart spacecraft that is able to operate completely autonomously as well as be manually controlled by its crew. Want to get a sense of what it would be like to manually dock with the ISS? SpaceX has a very entertaining simulator on their website where you can take control of Crew Dragon.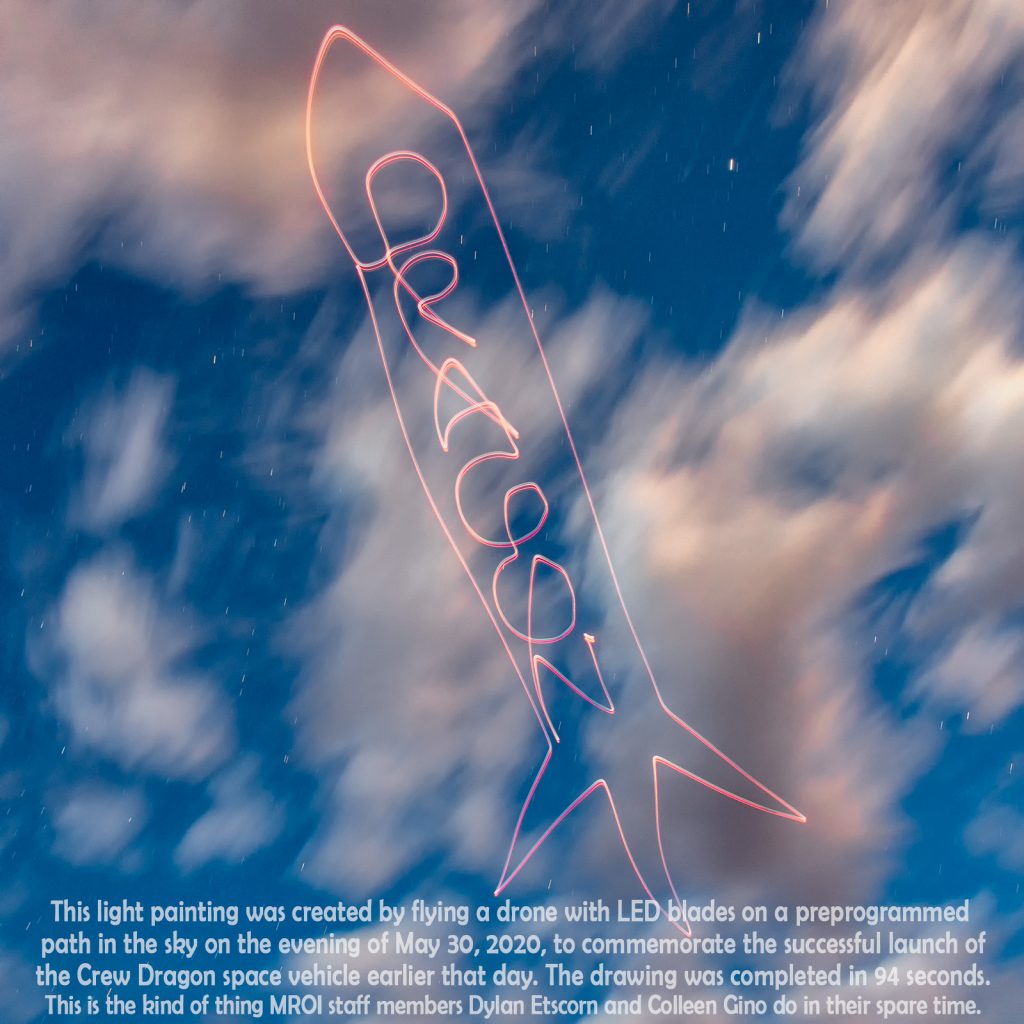 While there are only two astronauts on this Demo-2 flight, the Dragon vehicle is capable of transporting up to seven passengers into and out of Earth orbit. The expectation is that at some point in the not-too-distant future, the Dragon spacecraft will carry not only astronauts but private passengers into Earth orbit, with the eventual lofty goal of transporting humans to the Moon, Mars, and beyond. Dream on, Elon!
Transporting passengers into space is not the only line of space travel SpaceX has going on. Do you have a payload you need delivered into orbit? Then the SpaceX Ride Share program may be for you! Prices start as low as a cool million to propel your payload of up to 200kg into space – such a bargain! You can even make your reservation online on the SpaceX website.
NASA will be providing live coverage of all Demo-2 test flight activities before, during, and after its return from the ISS. Currently the undocking of the Dragon "Endeavor" spacecraft from the ISS is set for 7:34 PM EDT on Saturday, August 1. If this schedule holds, splashdown will be at 2:42 PM EDT on August 2. History will once again be made as the first commercially built spacecraft returns humans from the Space Station to Earth. Please refer to this website for full coverage of the weekend's events.
For those of us who enjoy "spotting the station", tonight may well be our last chance to watch the ISS pass overhead with the Dragon Endeavor space vehicle still docked. It just so happens that there is a pass visible tonight at our location at the Etscorn Campus Observatory in Socorro, NM. While it will be a relatively short pass, the pass occurs not too far from Comet NEOWISE, which has all but faded from view. If you are in the local area, you can refer to the charts below for time and location information. If you are located elsewhere, you can visit Heavens Above and enter your location to see if there is a visible pass in your area as well.
Eyes to the skies!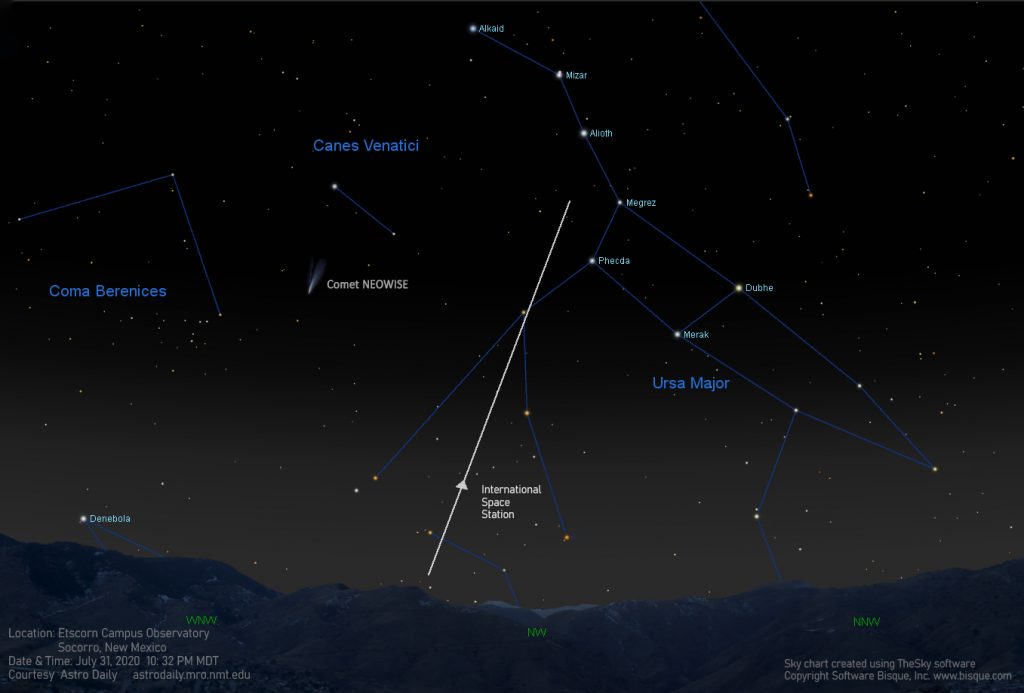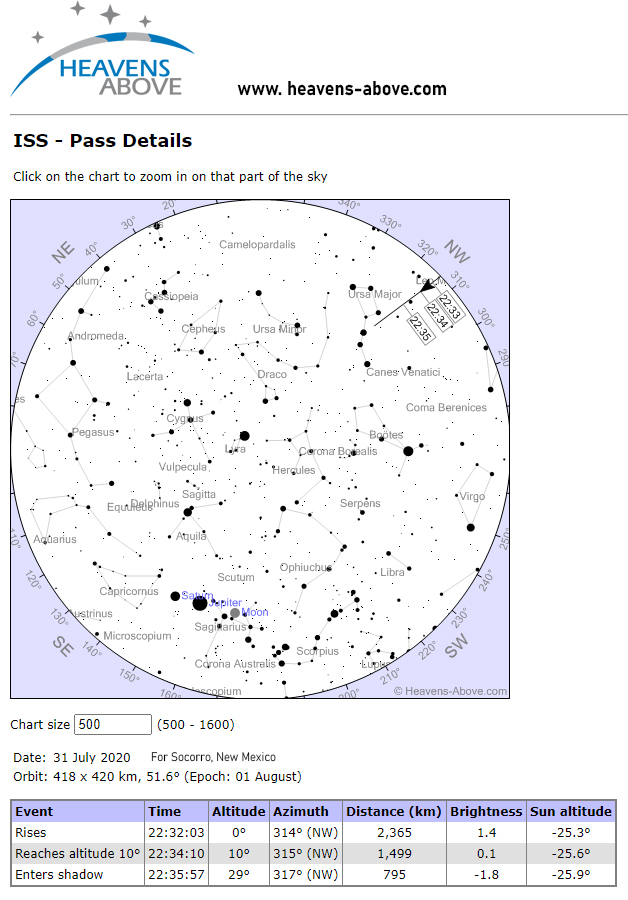 M. Colleen Gino, MRO Assistant Director of Outreach and Communications